New CD - Kalahari Encounters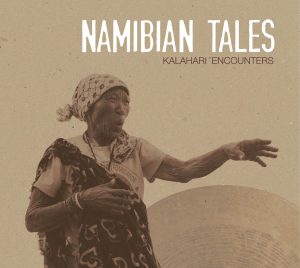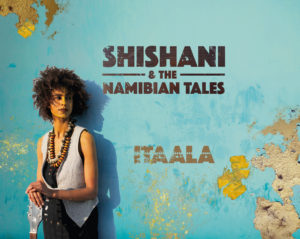 "Itaala" was made possible by AFK, FPK, Prins Bernhard Cultuurfonds en Hondius Foundation
CD release tour Namibian Tales – Kalahari Encounters in Europe with the San singers from the Kalahari this July!
5 July Amsterdam Roots – Bimhuis, NL
6 July PlusEtage, Baarle-Nassau, NL
7 July Afrika Festival Hertme, NL
7 July Deventer op Stelten, NL
8 July Rudolstadt Festival, Germany
11 July Kasumama Africa Festival, Austria
"On the album Kalahari Encounters new musical terrain is explored that is so exciting and inspiring that you enjoy leaving your comfort zone. The only suiting title for this album is "breathtakingly beautiful.""
Bas Springer, Mixed World Music, NL
"Namibian music with an eclectic twist: Namibian Tales latest album gets inspiration from traditional tunes of the San people of Namibia."
BBC Radio: Focus on Africa
"Kalahari Encounters: Best World Music production from the Netherlands 2017."
Mixed World Music
Five star CD review Itaala: "Songs of unknown beauty." 
Jazzism
"Itaala: Best World Music production from the Netherlands 2016."
Mixed World Music
"Promise of 2016."
Dutch Delta Sounds / World Blend Café
"This is worldpop of the highest order."
Mixed World Music
"Shishani: The crown princess of urban contemporary music."
Amsterdam Roots Festival (2016)
Many worlds flow smoothly together in the unconventional music of Shishani & the Namibian Tales. The group was founded by percussionist Sjahin During in Amsterdam, the Netherlands 2015. Vocalist, songwriter and guitarist Shishani combines the little known but rich tradition of her native Namibia with such western influences as soul and jazz. Debby Korfmacher may have been born in Germany, but she went mad about the sound of the African mbira (thumb piano) and then took up the kora (lute-bridge-harp). Cellist Bence Huszar hails from a renowned family of Hungarian musicians but explores the sonic potential of his instrument far beyond traditional boundaries. His pulsating, driving improvisations also land him a part-time job in the rhythm section alongside percussionist Sjahin During. During can draw on a wealth of experience in the widest variety of traditions, from Afro-Cuban via Turkish to Indian and jazz for his dynamic style of playing. Traditional music from Namibia and other African regions forms the starting point for Shishani's compositions. She sings her lyrics both in English and Oshiwambo, her mother's native tongue. Rooted in deep traditions, though partly thanks to unexpected harmonies and rhythms the music of Shishani & the Namibian Tales sounds surprisingly contemporary and refreshing.
Line-up
Shishani (na/be) – vocals & guitar
Bence Huszar (hu) – cello
Debby Korfmacher (de/nl) – mbira, kora, voice
Sjahin During (tr/nl) – percussion set
Great article in Folk Roots Magazine on our latest album "Kalahari Encounters" with the San singers.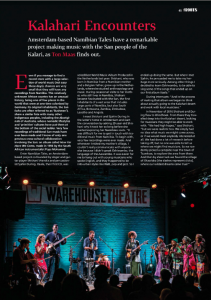 San project