Shishani – vocals & guitar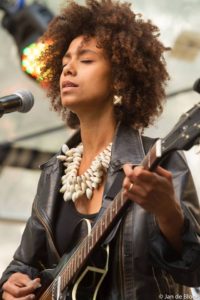 Shishani is a vocalist, songwriter and guitarist. Her roots are Namibian and Belgian in origin, but she grew up mainly in the Netherlands. In her work she bring these worlds together. Her vocal style has been influenced by Afro-American and African music traditions, giving her a truly unique sound. Her music is comforting and has a thread of strong social consciousness running through it. Shishani's song "Minority" garnered two nominations at the Namibian Annual Music Awards (2012). She has also been credited with a host of awards, both locally and internationally including winner of "Last Band Standing" (Namibia, 2012) & singer-songwriter competition "Mooie Noten" (Netherlands, 2013). She was a finalist in the prestigious Radio France International Discovery Awards (2014). In 2016, Shishani & Namibian Tales quartet won Best World Music production from Netherlands with their debut album "Itaala."  In her work as an anthropologist / musicologist she has specialised in contemporary urban Namibian music. Currently she is writing for the Bloomsbury Encyclopaedia of Contemporary Music of the World. Shishani means 'crown' in Oshiwambo, one of Namibia's native languages.
Sjahin During – percussion set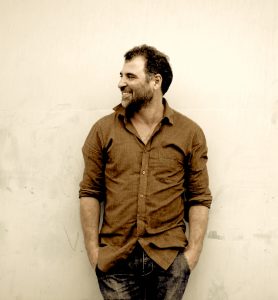 Sjahin During is the percussionist and founder of Bayuba Cante, Afro Anatolian Tales, Tarhana, Arifa, and the Namibian Tales. As a young man, Sjahin set out to explore the world of music through travel by following the beat of the drum. He ended up studying with masters from Cuba who initiated him in Yoruba traditions. He then studied with Indian gurus embracing more sounds and techniques of the world. These influences are now intertwined with his Anatolian roots. Sjahin teaches at various conservatories in the Netherlands. With his diverse percussion skills, unique self-made instruments, and distinct set-up he has toured worldwide working with world renowned artists such as: Claron Mcfadden, Asko – Schonberg Ensemble  Martin Fondse, Harmen Franje, Arto Tunçboyaciyan, Eric Vloeimans, Miguel "Anga" Diaz, Simon Phillips, Pedro Luis Ferrer, Lakha Khan, Jorge Reyes, Naseer Shamma, Edmare Castaneda,Brenna MacCrimmon, Alex Simu, Osama Abdulrasol, Mola Sylla, Franz von Chossy,  Sidi Larbi Cherkaoui(Les Ballets C. de la B.), Aynur, the Gypsy's from Rajasthan, Izaline Calister & Theodosii Spassov.
Debby Korfmacher – mbira, kora & vocals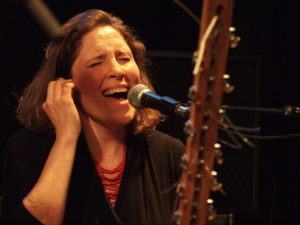 Debby Korfmacher grew up in a family of classical musicians, and studied violin and flute in her youth. At the beginning of her Music degree at the School of Oriental and African Studies in London, she heard the sounds of the mbira for the first time: it was love at first sight. Everything that she loved about music seemed to be united in this one tradition. She set off to Zimbabwe as soon as she could, and many subsequent study trips followed. She also travelled to Senegal to learn the kora. Debby moved to Amsterdam in 2003, where she now resides and incorporates the influences of her many travels in her own music. She is a mbira teacher at the Amsterdam Conservatoire and frequently and gives workshops and lectures about African music. Over the years, she also developed a passion for music education. Debby is a creative music workshop leader, advisor, trainer and coach.
Bence Huszar – cello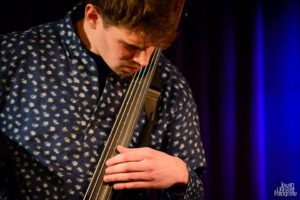 Bence Huszar is a cellist of Hungarian origin, descendant of a renown family of musicians. He started studying the cello at the age of six and dedicated himself to the instrument ever since. Over the years he has studied with eight different masters including Gyorgy Deri, Monique Bartels and Ernst Reijseger. Towards the end of his institutional studies Bence felt the need to dive further into his personal musical expression. He took classes with Ernst Reijseger who helped him develop his own musical language and style of playing. Ernst also taught him experimental cello techniques and the art of pulse based rhythmic improvisation. Bence has been exploring electronics in combination with an electric cello. This opened the door to new sonic colours. The discovery and development of original sounds has remained Bence's main focus ever since. His musical versitality led him into a variety of groups and ensembles performing world music, experimental classical music, experimental electronic music and cross-over genres. During his professional carrier he has played throughout Europe and the Middle East.